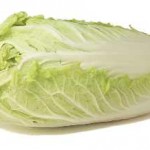 NAPA CABBAGE SALAD
This salad is so delicious, the recipe must have gone around the world several times, but anyone who has not tried it is in for a treat.    It is especially practical for transporting to picnics.  Just keep the sliced vegetables chilled, and carry the dressing in a tightly sealed container.  Leftovers do not stay crisp, so mix the ingredients just before serving. 
 Makes 6 large servings or up to 15 smaller side salads
1          small Napa cabbage
1          bunch green onions, sliced
2          tablespoons butter
1          cup sliced almonds
6          oz. sunflower seeds or 3 tablespoons sesame seeds
1          package ramen noodles, broken (discard flavor packet)
1/4       cup apple cider vinegar or rice vinegar
1/4       cup sugar
1/2       cup vegetable oil
1/2       teaspoon salt or 1 tablespoon soy sauce
Quarter the cabbage lengthwise, and finely slice the sections crosswise.  Combine the sliced cabbage with the green onions in a large bowl; cover and refrigerate until ready to use.
Melt the butter in a large skillet and brown the nuts, seeds and noodles until they are lightly toasted, stirring often to prevent over-browning.
In a small saucepan, bring the vinegar, sugar, oil and salt to a boil and boil for one minute.  Remove from heat and cool to room temperature.
Just before serving add the dressing to the cabbage, and toss with the crunchies.