Quick and Easy Breakfast Burrito
 2 servings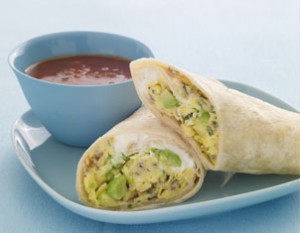 Eggs are the perfect solution for a casual Easter brunch.  They are seasonally abundant, nourishing, and versatile.  Not just for breakfast or brunch, they can be the main feature of any meal. 
2             flour tortillas (about 8 inches in diameter)
4             large eggs
2             tablespoons milk
2             tablespoons fresh cilantro, chopped
2             tablespoons butter
1/3         cup chopped, sweet onions
1/2         ripe avocado, pitted, peeled, and diced
2/3         cup grated Pepper Jack cheese
salt and pepper
cilantro for garnish
Preheat the oven to 350° F and turn it off.  Place the tortillas in a baking pan and warm them in the preheated oven.
In a small bowl, whisk together the eggs, milk, salt and pepper, and cilantro.  Melt the butter in a skillet over medium heat and sauté the onions briefly.  Add the eggs and cook, stirring, until almost set.  Add the avocado and cook until eggs are firm.
Spoon the eggs down the center of each tortilla and top with the cheese.  Wrap and place each tortilla, seam-side down, in the covered baking pan.   Return them to the warm oven to steam and hold for up to 1/2 hour until time to serve.   
Garnish with cilantro and serve with salsa. 
The steaming interval in the oven improves the texture and flavor.  The Pepper Jack cheese adds a delicate zestiness.  Other optional ingredients: olives, rice, beans, bell peppers.  For less cholesterol, use rice milk, fewer yolks and more whites, olive oil instead of butter.