OBAMA INAUGURATION
Electrifying Events Written In The Stars
            Electrifying, riveting—in the stars and on the Washington D.C. mall. One couple impulsively flew all the way from France to witness the inaugural because they wanted to be at the scene of this historic occasion.  There were no rooms available in any hotels, so they just stayed up all night — and then stood out in the cold waiting for the swearing-in.  About two million people joined them.  Most amazing is the impact that the inauguration of Barack Obama has had on people around the world 
            The new optimism has been a long time coming.   With the clarion call ringing in our ears: "This call for a worldwide fellowship that lifts neighborly concern beyond one's tribe, race, class, and nation is in reality a call for an all-embracing and unconditional love for all mankind." MLKing Jr.  What we are witnessing is Western Wisdom in action — a country returning to the humanitarian principles of brotherhood upon which it was founded.   
            How many realize that it is not patriotism and national pride that engulfs us during these moments? We serve ourselves and humanity better by not emphasizing patriotism and nationalism over universal brotherhood.  It is the common and universal principle of love that resonates in our hearts and in those around the globe.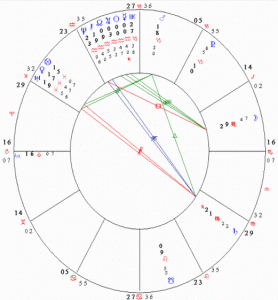 The natal chart for the inauguration clearly describes the event and portends what we may expect from the new administration.  First, the North node of the Moon is in the tenth house at the Midheaven.  It is conjunct Jupiter and the Sun and Mercury. The North Node and this stellium of planets define this specific inauguration.  The Sun at the midheaven in Capricorn happens every year at this moment, by design, but this year the North Node points to the expression and expansion of Aquarian principles and ideals.  This stellium of planets is closely sextile to the Moon which is in Scorpio (regeneration) in the seventh house (of partnership and contracts) and is void of course.  Traditionally, a void of course Moon advises that anything begun at this time will require major adjustments later.  If this president-elect had sought the opinion of an astrologer and been advised to delay his oath of office one hour, we might wonder how successful he would have been in asking to have this request granted.  President Clinton's oath of office for his second term technically came under a void-of-course Moon, although it was applying to a quincunx to Jupiter.  One individual that I know stated that his natal void-of-course Moon just meant that he was free to make anything he wanted of his life.
            As compensation, the part of fortune is conjunct Venus in the eleventh (Aquarian) house of organizations and friends, auguring well for diplomatic efforts to improve America's image around the world.    Also from the eleventh house there is a beautiful sextile between Uranus/Venus and Mars.  Venus rules the Ascendant.  Thereby, the outward expression of this administration is brotherhood and charismatic leadership.  Both Venus and Mars are exalted in their signs — Venus in Pisces and Mars in Capricorn, and they are enhanced from Mars forming a trine to Saturn in the fifth house. (creativity)  It will be necessary to use all of our creative efforts and energies to solve the problems of our imprudence, but we should avoid getting too hung up on method or process. 
            Neptune and Chiron (the wounded healer) in the 10th house in Aquarius give some hope for the healing of the world and our wounded planet and for overcoming non-Aquarian distractions, but it will require hard work and patience with time not being on  our side as evidenced by the square aspect to the Moon and the quincunx to Saturn.   
            Stated positively, there will be a humanitarian solidarity and a love of truth — to the point of sacrifice.  Our weaknesses can become our strengths with proper discernment and persistence.  
            Along the same theme, we have been experiencing an on-going opposition between Saturn and Uranus.  There will be conservative vs. progressive issues challenging some of the creative ideas, and these will have to be resolved.  The close-orb sextile between exalted Mars and exalted Venus/Uranus offers clues to the redeeming possibilities.  The exaltation of Mars, is like having a very good harness on a powerful beast.  Power and restraint and an artfully intuitive, charismatic, highly principled leader will be the key.   
            The closest and very important aspect which must not be ignored is Pluto (destiny and massive, undeniable, subtle change) at the midpoint of the Moon and Mercury.  Pluto is in the house that it naturally rules, the eighth house (regeneration), and it is now in the sign of Capricorn where it will remain for about 15 years.  Have we changed our leader and our ideas about leadership?  YES.  That couldn't be clearer—in or off of the chart.  The Moon represents our physical infrastructure and also the public.  Because the Moon in the sign of Scorpio is in the seventh house and is ruler of the fourth, it signifies the regeneration of and newly formed alliances.  We will gain from this administration new images concerning our roots and our sources of sustenance.  Mercury represents communication and commerce; it is in the inventive, innovative sign of Aquarius.  Some big, slow, subtle changes and some rapid unexpected changes await us.  
            What we have seen at the inaugural event gives a preview of what has been set in motion.  We asked for change.  Change is what we will have.  We are entering the Aquarian age; we may believe that we are already in it.