World Religions
Carlos Ziade Comments on PJP's Apologia RE The Cosmo
As He Describes Conditions in the Middle East
CZ  []  That's exactly what we all need to grasp, FRIENDSHIP AND FELLOWSHIP as being the main principles of focus in the Rosicrucian Cosmo-Conception – away from what is thought to be racist and anti-Christian.
Of course we are needed these days to stand by the Church as students of the Rosicrucian Fellowship and to be good examples of friendship and fellowship with all whom we come into contact.  Max Heindel made it clear in 'a Plea for the Church.'
From October 10 to 24 there will be a special Synod assembly in the Vatican dedicated to the Middle East.  It will gather all Middle Eastern Church heads together in a spirit of Unity and communion, because Christianity in the Middle East is suffering the consequences of lost Love and Peace.  Followers of the Christian Teachings are decreasing in numbers, hazardously!  I will be present at the Synod with the Christian TV that I work for to cover the whole assembly with our cameras and editing equipment.
I think the Church must start thinking about adopting the principle of REBIRTH as the keynote of its teachings; that would be its gateway to come out of its habitual dogma, and would bring not only Christians back to the Holy Bible, but people from all cultures and religions in a spirit of Love and Fellowship.  In other words: the Rosicrucian teachings.
ER  []  How interesting that you can work directly in this way with the churches there.  I agree, if only the Church would accept rebirth, many things would change.  I hope you will have videos and lots of stories about your experiences.
CZ  []  I will post much info about this synod as soon as I get back to Lebanon, hoping that it will bear fruit concerning Christianity in the Middle East with all the challenges it is facing, and that it will show how the Church there must be a typical example of living and coping with all others peacefully and lovingly.
But until the doctrine of Rebirth as the Master Key, becomes a principle tenet of the Church Teachings, it will keep on suffering the consequences, I guess, from my perspective.
ER  []  I wonder if you, as a Christian living in the Middle East, are in any danger from the intolerance among religious groups.  Do you find it necessary to be especially cautious?  
CZ  []  In Lebanon, where I live, there is no need to be cautious; Christians live in peace with others.  There were times in the past when political rivals used religious differences for their own targets, but now people are awake; there are open discussions among all ethnicities and religious groups, especially through the media. We have programs on the Christian network which I work for that handle open discussions between religious people, Islam and Christian.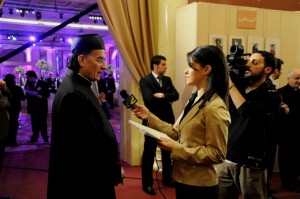 But in countries like Iraq, and I have met Christian Iraqi refugees in Lebanon, yes, they have to be extremely cautious, because there exists extremism that relates itself to Islam, although it is not based on Islamic principles, but extremists in Iraq say the Quran states that God has not been born and never gave birth, so how could it be that Christ be the Son of God, and Mary the Mother of God ?  The Quran also states there is one God; how could there be a Father, a Son, and a Holy Spirit ?
The Church with all its powers cannot find the suitable answer to that question, so here, according to my opinion, come the Rosicrucian Teachings as brought to Max Heindel by the Elder Brothers of the Rosicrucian Order—the most sophisticated solution to this entire riddle. When explaining that God is not 'three' but 'threefold', that the Sun radiates White Light which is a combination of all colors having their basic ones as Blue, Yellow and Red.  The Father, the Son and Holy Spirit; these are three 'aspects' of the ONE GOD.
That Christ is a Spiritual Archangel, head of all Archangels, incarnated in Jesus, the Son of man, most exalted among humans and so called God's begotten. That Christ, being an Archangel, was called by old humanity, a God, according to their understanding in those past times – that we are all gods in the making, treading the Spiral Path along the 777 incarnations. All these wonderful truths in the Rosicrucian Cosmo-Conception are the solution to all religious riddles and misunderstandings, if fully grasped.
ER []  We need to keep remembering that the trouble-makers of Islam are only a minority.
CZ  []  Concerning Islam, you are right, a minority called extremists are the trouble makers, but the ordinary Islamists are peaceful, loving and of good service to others, that was what I experienced through living with our Muslim brothers in Lebanon, both Shiite and Sunnis.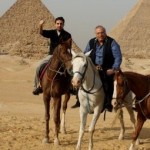 We just need to redirect the principle of the Triune God through discussions in a way that they could easily grasp, and I guess our teachings are a good tool, and I have tried that successfully! When they understand our Christianity and we understand their Islam, that is the first step toward more developed civilizations.
 On Friday we will be on our way as a television crew to the Vatican City
 May the Roses Bloom Upon Your Cross