MOTHER FOOL'S CORN CHOWDER
 What could be more satisfying on an autumn day than
this vegan (yet completely delicious) version of corn chowder from
Mother Fool's Coffee House of Madison, Wisconsin?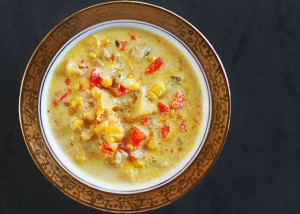 3          large russet potatoes, peeled and diced
10        cups water
3          tablespoons vegetable oil 
1          large onion diced
1          red bell pepper, seeded and diced
2          jalapeno peppers finely diced
1/2       tablespoon cumin
2          lb frozen corn kernels
1          vegetable bouillon cube (Or substitute veg. broth for part of water.)
1/2       tablespoon salt
1/2       teaspoon black pepper
3          cups plain soy or rice milk
Fresh cilantro, chopped, for garnish
Cook the potatoes in water until tender.  (Do not drain.)
In a large pot, sauté the onions until they are translucent.  Add bell pepper, jalapenos, and cumin and sauté for 5 minutes.  Add the cooked potatoes along with their cooking water.  Add the corn and bouillon cube and bring to a boil and simmer for about 10 minutes.
Season with salt and pepper in amounts listed or to taste.  In a blender, puree half of the soup along with the milk.  Add the puree back into the whole vegetables and serve garnished with cilantro. 
You can use baby red potatoes instead of russet, leaving them unpeeled to give color.